Pharmacist of the Month
June, 2018
Kentucky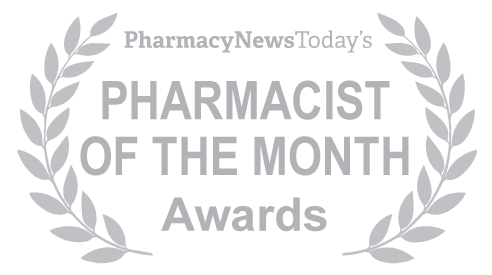 Name: Emily Mathew
Pharmacy: Walgreens
Pharmacy Address: 1605 Midland Trail, Shelbyville, Kentucky, 40065
Pharmacy School Attended: Philadelphia College of Osteopathic Medicine School of Pharmacy
Hobbies:
Love spending time with my 5 month old, going to museums, art festivals, movies and shopping
If you could have dinner with any three (3) people in history, who would they be?
Van Gogh
Monet
Da Vinci
The most rewarding thing about being a pharmacist is:
I love being able to help my patients on a personal level and being a part of their understanding how their medications work and help them.
Who/what inspired you to be a pharmacist:
I took AP Chemistry in high school and learned how to make aspirin and it fascinated me and started my interest in pharmaceuticals. I also did a co-op position while in high school and worked at a pharmacy under John Beville. His interaction and care for his patients inspired me to do the same!